Jury Commission
Click on this icon to visit the Juror Portal website and complete your Qualification Form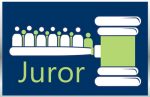 **PLEASE REVIEW THE FOLLOWING INSTRUCTIONS CAREFULLY**

 
The Jury Trial Schedule changes often.  It is not uncommon for last minute changes.
To prevent you from appearing unnecessarily, this website and a phone service (417) 256-7505 are provided with the latest updated information.  Checking either of them AFTER 5:00 PM the evening BEFORE  you report will be to your advantage.
You are REQUIRED to appear on the
REPORT DATE AND TIME

for your Panel….

A or B as indicated

below.

 

Please Note:

  Most report times are no later than 

8:15 a.m.

 , however, some trials are held at a later time.
Unfortunately, You will
NOT

 be notified when a jury trial is "

called off

".

Jury Service: Hallmark of the American System of Justice
Few activities in our civic life provide such a direct contact with our democracy as does jury service. Besides voting, nothing is so active and participatory in nature. In fact, Thomas Jefferson believed that serving on a jury is more important than voting. He said, "I consider trial by jury as the only anchor yet imagined by man by which a government can be held to the principles of its constitution".
MAY AND JUNE
2022 JURORS
PANEL A:  Your report date is,
THURSDAY JUNE 2nd AT 8:00AM
PANEL B:  Your report date is,
TUESDAY MAY 31st AT 8:00AM
Report to the:
HOWELL COUNTY COURTHOUSE, WEST DOOR ENTRANCE 
Be Advised:

–

All PATRONS entering the courthouse are subject to search by security staff…CELL PHONES, HANDBAGS AND WEAPONS ARE NOT PERMITTED IN THE COURTHOUSE;

knives will be confiscated and not returned.
– APPROPRIATE DRESS IS REQUIRED. (

Think Business Casual)

SHORTS, TANK TOPS, GRAPHIC TEE-SHIRTS, OR HATS WILL NOT
BE ALLOWED PAST SECURITY.
If you need an accommodation for disability or special dietary needs, please call (417) 256-3741 during office hours, Monday – Friday 8:00 A.M. to 4:30 P.M., at least one week in advance of your report date. You may also use this number in case of an emergency while you are serving. Access to jury service is available to all individuals with a disability as required by the Americans with Disabilities Act of 1990.    THANK YOU.
COVID 19 PROTOCOL :
MASKS are NOT required at this time, but are available if you want one. 
SOCIAL DISTANCING is recommended, but NOT required.
HAND SANITIZER is offered in several locations within the building.
HOWELL COUNTY COURTHOUSE
We would like to take this opportunity to Thank YOU  for your service and cooperation, and hope this website will provide quick and easy access to information of upcoming jury trials during your term of service. We update this website and our phone service on a regular basis, feel free to check back as often as needed.
Howell County Jury Information
For other frequently asked questions and items of interest, be sure to check out our FAQ page by clicking on this link Jury Duty FAQs
Overview
Jurors are selected by computer randomization from Voter Registration and Department of Revenue records and sent a summons approximately four weeks prior to the date they are to report. Jurors are on call for a two month term. In order to minimize the amount of time juror's lives are disrupted, jurors are instructed to call an automated message line or check this website the night before their report date to assure that there has been no change in their reporting instructions. Sometimes the Court cancels jury trials for various reasons and jurors can determine this by following the call-in or website instructions.
 The Summons
 Log into a website browser at www.courts.mo.gov/jurorportal/ on a computer, tablet, or smartphone and complete the online qualification form and questionnaire within 10 days of receiving your summons. Please bring your summons with you each time you report for jury duty.
If you are requesting a disqualification or excusal due to mental health or medical reasons you MUST upload, hand deliver or fax a doctor's note at least 2 weeks before your report date.  Requests that do not have an associated doctor's note will be denied.
Documents supporting a request for disqualification or excusal may be uploaded from a computer file or from the camera of a tablet or smartphone.
Verifying Report Date
Call the automated message line or check this website after 5:00 p.m. the evening before you are to report for jury duty. A recorded message will announce reporting instructions for your panel (A or B).         Message Line: (417) 256-7505
 Reporting For Jury Duty
Report time is usually no later than 8:15 a.m., however, some trials are scheduled at a later time. Report to the Howell County Courthouse, located at 106 Courthouse, West Plains, MO  65775. Please allow ample time for parking and security screening.
Security screening is conducted on all persons entering the courthouse or courtrooms. Be prepared to remove watches, jewelry, belts and/ or any other items that may trigger screening devices. Individuals carrying prohibited items will be required to dispose of them before entering the building. Prohibited items include, but are not limited to:
any firearm or other item that can be construed as a weapon
any sharp objects such as metal utensils, knitting needles, scissors
tools or knives of any sort
flammable chemicals including hair spray, pepper spray or mace cigarette lighters.
all purses, handbags, briefcases, backpacks, diaper bags, or duffel bags, as well as pagers/cell phones/electronic devises are NOT to be brought in to the courthouse and should remain in your vehicle.
If you leave the courthouse any time during or after jury selection, you will be required to go through security screening before re-entry to the courthouse.
Jury selection usually lasts most of the morning hours. Typically there is a one hour lunch break around noon and a brief restroom break mid-morning/mid-afternoon (whichever applies). Jurors are allowed to make/ receive calls as well as use electronic devices during breaks.